Among the many students who were surveyed many stated that one of their biggest challenges was understanding exactly what material to learn. Cogito ́s modular and flexible database makes it easier for teachers to organize their curriculum.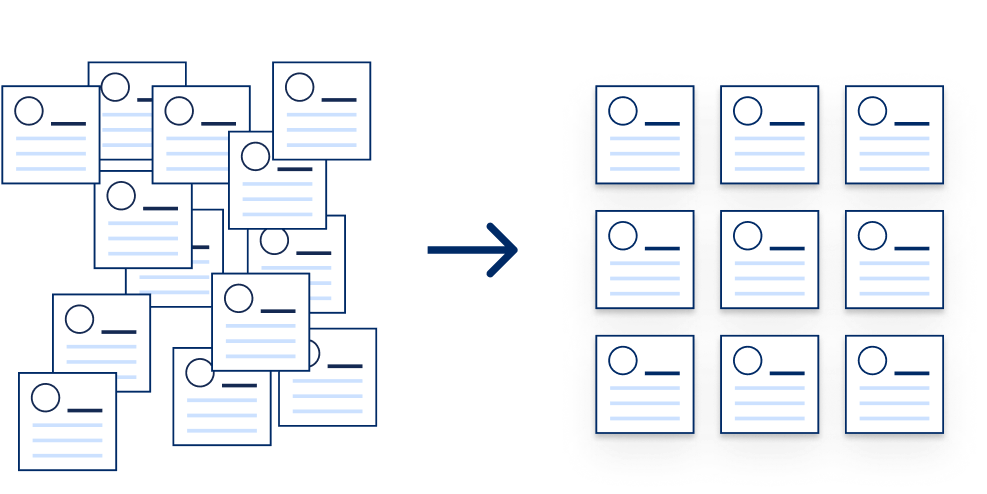 Arranging - Accessible notes for exams and e-learning
Cogito believes in the implementation of sequence, continuity, and articulation in the arrangement of the curriculum content, skills, and processes. The implementation of these elements in an arranged fashion is called a vertical organization. The vertical arrangement of the curriculum will ensure that new learning is built on previous steps.
Benefits - Clear instructions about what to learn
The proper sequencing of these experiences will help students clarify what knowledge and skills are a prerequisite for the next. The issue of clarity amongst students is what Cogito hopes to tackle with the easier organization of information and curriculum. Horizontal translation of sciences is a hot topic nowadays. Academics have had quite a hard and troublesome decade, with new technologies and scientific concepts rapidly emerging on a daily basis. This becomes complicated for students, especially when different courses overlap largely with each other, yet manage to communicate different curriculums and expectations. Do you really know what each institute at your university is teaching? What if you had a tool to analyze the structure of information horizontally, between fields of sciences?
What you would have is a clear, logical, step-by-step approach to teaching people. By going from A to B without creating a labyrinth of courses and information, students would know exactly how each course adds to their knowledge, and what the next step will be. If they get lost somewhere, they can revise previous courses in the learning chain, to revisit connective information.
On Cogito the topics, headings, or even parts of the texts can be interlinked with other topics of different courses. This can be done by both students and staff, doesn't need to be planned, but can be done on the run. When a user sees an opportunity to interlink parts of texts, they can do it easily. If your question is, isn't it too much of an overhead to manage this?
A shift is needed
We still need to enforce the idea of education as a community and what might seem an enormous effort for the individual is just a flick of a finger for the group. After interlinks connect the materials, Cogito creates a sophisticated analysis showing, hub courses and overlaps between the written sources. Analyzing our research clearly indicates that confusion among the fields of sciences cause high levels of frustration among students who try to understand what's happening. Organize your curriculum, interconnect courses and topics, and validate necessary materials, so when your students log in to Cogito, all they have to do is thrive and grow professionally. Trust us and your student satisfaction will rise beyond your expectations. With Cogito's extra services, you can request marketing infographics about the analytics of your university, to target future generations joining your university. Show them you care, show them your students are taken care of!
Read more about effective stress management strategies for college students to start helping others today.